ANOTHER NYC GUITAR TRIO SHOW
Julian Lage, Anthony Wilson and I had such a good time at our last performance at Rockwood Music Hall, that we are reuniting again for a performance at Cornelia Street Cafe March 26, on a double bill with the wildly talented young singer/guitarist/songwriter Margaret Glaspy. Julian, Anthony and I will again be performing mostly songs from my forthcoming album, whose official title is nowBorne Away, which will be released on my own Secret Sun Recordings label this June. Details about that will be coming soon. Please join us at Cornelia Street Cafe for a night of great music.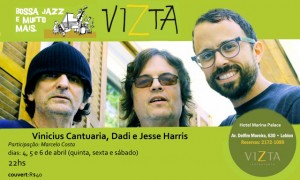 THREE NIGHTS IN RIO
For those of you living in Brazil, I will play three nights in Rio at Club Vizta in the Marina Palace Hotel, April 4-6 in a trio with Vinicius Cantuaria and Dadi. Although I've collaborated with both of these amazing musicians before, this will be our first time performing as a trio. Dadi played bass on my last album Sub Rosa, and co-wrote the song "Rocking Chairs" with me. Vinicius also appeared as a guest on the album, playing percussion, and we co-wrote a song called "This Time," which I sang on his latest albumIndio de Apartamento. These shows will be a warm-up for our upcoming tour of Japan in May.
See you soon!
All the best,
Jesse
UPCOMING SHOWS
March 26 – Cornelia Street Cafe // NYC
(with Julian Lage and Anthony Wilson)
April 4-6 – Vizta, Rio de Janeiro // Brazil
(with Vinicius Cantuaria and Dadi)
April 15 – Rockwood Music Hall // NYC
(with Bill Dobrow)
May 14 – Club Sunset // Paris, France
(with Bill Dobrow and Anthony Wilson)
May 17 – Moers Festival // Germany
(with John Zorn "The Song Project")
May 19 – Victoriaville // Quebec
(with John Zorn "The Song Project")
May 24-June 5 – Japan tour with Vincius Cantuaria and Dadi
(dates announced soon!)
July 13 – Northsea Jazz Festival // Netherlands
(with John Zorn "The Song Project")
July 14 – Gent Jazz Festival // Belgium
(with John Zorn "The Song Project")
July 15 – Warsaw Summer Jazz Days // Poland
(with John Zorn "The Song Project")