NEW VIDEO PREMIERE ON NOWNESS
Today the site Nowness premieres the video for Borne Away, the title track from my new album. I teamed up again with Charlotte Kemp Muhl, who is also the guest vocalist on the recording, and photographer Lyle Owerko. Last summer we made a series of iPhone videos together, in which Charlotte played The Succubus or The Girl. This time she and Lyle co-directed. While those videos were edited by me in iMovie, we decided for this one to work with a pro, and Lyle introduced us to his friend Thomas Vogt, longtime editor of South Park and other amazing works, such as Team America. "Is it funny?" You may ask. Not really. But comedy requires timing, and Tom brought that in spades. No need to explain it further. Please take a look, and if you like it, spread it around.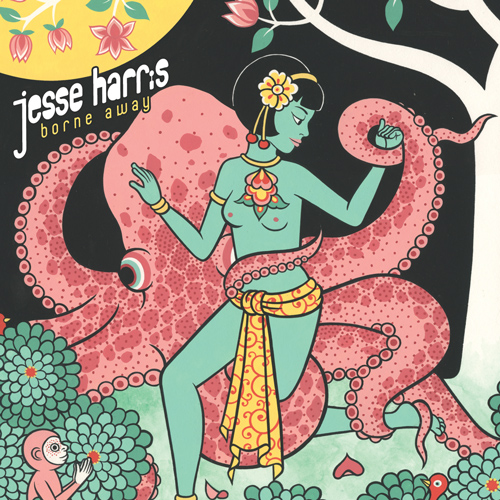 "BORNE AWAY" PRE-ORDER
The album is also available for pre-order today: on vinyl (with download card), cd digipak, digital, or as a signed-and-numbered special Japanese limited edition – a beautiful hard-cover bound art book with the cd, featuring extra illustrations by Asuka Ohsawa (illustrator of the album cover), all the lyrics, and liner notes by painter (and friend) Nicholas Weber. There are only 100 copies of those, so if you'd like one, order now. PRE-ORDER NOW!
UPCOMING SHOWS
The official release date is June 25, which I'll celebrate with a series of shows around New York City and upstate, with Julian Lage and Anthony Wilson on guitars and Bill Dobrow on percussion.  Our first appearance will be at Rockwood Music Hall on Tuesday, June 25 (get $10 tickets here). On the 27th we'll play a house concert in New Paltz, New York. And on the 29th we'll perform in the garden at Pioneer Works, a vast and impressive new museum/artist space in Red Hook, Brooklyn. Finally, on the 30th, Bill and I will play duo at the Tin Roof Sessions in New Paltz on a double bill with Margaret Glaspy.
ON TOUR IN JAPAN
I am writing you from Japan, where I'm on tour with Vinicius Cantuaria and Dadi. Being in Japan is, as always, a heightening of the senses, as well as a musical journey. Vinicius, Dadi and I are sharing the stage, each accompanying the other, playing everything from originals to covers of Jorge Ben and Antonio Carlos Jobim. If you're in Japan, please come out to our shows this week. It's been a blast. We'll play Hiroshima tomorrow, Osaka the 30th, Kyoto the 31st, and the last one at Duo Music Exchange in Shibuya, Tokyo on June 3.
Thanks and see you soon!
All the best,
Jesse